FAQ
General problems and troubleshooting
Check for the latest version at https://tubemate-download.com. Youtube updates frequently, so older versions of TubeMate can stop working.
In case new version not available yet – please wait some time.
Clear the cache.

[collapse]
Can't download anything
Error: EACCES (Permission denied)
If your android version is lower than 4.4 then change download folder in preferences:

Click "Menu" button on your device
Select "Preferences"
Choose "Download folder(Video)" or "Download folder(mp3)"
Specify the folder

If your android version is greater than 4.4: just download latest tubemate apk and try to install it.

Insufficient storage. Please check whether you have enough storage. Try to free some space and try again.
[collapse]
Can't download HD videos
Check whether you have latest version of Tubemate APK for android.
It could be due to some changes in Youtube. In that case Tubemate update will be available soon.
Some videos may not have HD quality.
Some devices don't support Full-HD videos.
[collapse]
Downloading speed is very slow.
Download speed is mostly depends on your network conditions. Though Youtube also can limit it.
But there are some options to improve speed in case of bad network: try to turn off 'Fast download mode' in the preferences, or adjust it's options.
[collapse]
How to download videos to sdcard.
KitKat(4.4) and above
For those android versions Google has disallowed apps to use the whole sdcard. So TubeMate can save files only in the specific area of sdcard. But if TubeMate app will be uninstalled – then all files in that area will be removed as well.
By default for downloads used internal storage (recommended), but it can be changed to sdcard in preferences.
In case there is no more space on internal storage – can be used option 'Move to sdcard':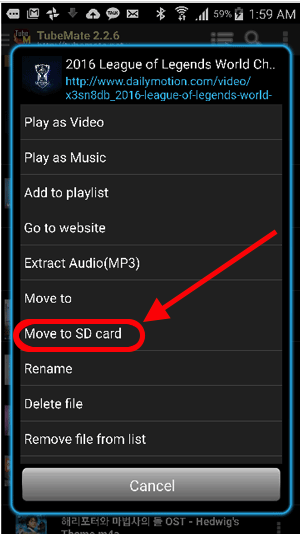 Jellybean(4.3) and lower versions
Media files are saved to folders '/mnt/sdcard/Video' and '/mnt/sdcard/mp3' by default. Sometimes on newer devices them can be located on internal storage. You can setup download folder in Menu/Preferences.
[collapse]
Why to install mp3 video converter?
Can't watch downloaded videos
Is it possible to install TubeMate on Windows 7?